Your Professional Commercial Moving & Office Relocation in Tulsa and Oklahoma City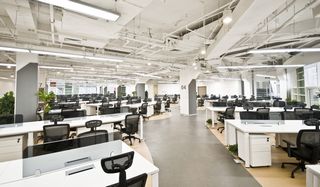 Oil Capitol Relocation routinely makes good on professional, top-quality office relocation services that accommodate the needs of every customer, no matter what the size or distance of their move. And crowning the list of needs is ensuring that our services have companies back up and running fast, with as insignificant a degree of business interference as humanly possible and no real cutback in productivity or profitability. Rest assured, we'll extend you the same professional courtesy.
To insure that every stage of your office relocation goes as expeditiously as possible, we set you up with your very own Project Manager. He or she is an experienced member of our team who's here to field any questions or concerns you have while your move is underway. Furthermore, your Project Manager will help you draft the perfect moving plan to fit your needs, help coordinate logistics, and supervise the rest of the Oil Capitol Relocation staff during the move. We also provide support services once we've gotten you where you're going, because our crews know that a move isn't over when your furniture and equipment are unloaded.
In tailoring a moving plan specifically for your needs, we take a look at a number of provisions, from basic relocation services to installation to records management and pretty much everything in between. Our basic office relocation services encompass ...
Facilities Moving,
Records and File Moving,
Modular Furniture Tear-Down and Setup,
Numerous Storage Options,
Records Storage,
IT and Server Relocation.
If you'd like to know more about all of our office relocation services, or to begin your move process, call Oil Capitol Relocation today! One of our friendly, savvy representatives will be happy to give you the assistance you need. You can also, without obligation ...
Request a free quote