Experienced Records and File Moving Management and Storage Help in Tulsa and Oklahoma City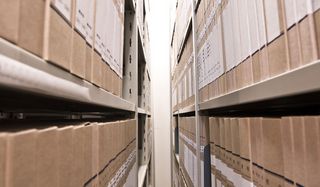 Is your office or business inundated with documents, files, and business records? Need help moving and storing sensitive information? Oil Capitol Relocation of Tulsa and Oklahoma City can assist.
We get it; paperwork can fill up a great deal of valued space in your office building, space that could be going to much better use for your company. But when you start conversing about moving those documents, be it to a different office location, short or long term storage facility, you want to make sure they are handled securely.
Our business records and file moving services and storage facilities are some of the safest and protected around. Our professionals can competently move and take care of your business file moves, keeping your staff focused on their jobs. And if you need interim or long term document storage, we can handle it. Our facilities are fireproofed and equipped with dry sprinkler systems; they are also security monitored and feature private auditing rooms for use by our clients. Files such as tapes, x-rays and computer files have their own specially designed areas and are always accessible to you. Items will be bar-coded for their prompt retrieval, and we also allow you the benefit to pick-up and deliver your possessions.
Oil Capitol Relocation business records management services encompass:
Long-term document storage
Bar-coded for immediate retrieval of boxes, files and documents
Store your tapes, x-rays and computer files
Private auditing rooms
Security monitored, fireproof and climate-controlled
Pick-up, delivery and courier service
Document destruction
HIPAA Compliant

We can facilitate your office to office document moves,
interoffice
file relocation, or improve your office efficiency, while saving your valuable time and money, with our
records management
. We have the capacity to specifically design storage programs for you to take care of your storage needs and can work closely with you to decide which records need to be sent to storage. We will always suggest the most efficient, speedy and cost-effective way for records pickup and deliveries.
Use our quote form or give our professionals a call.
Read what others have said about us
Request a free quote