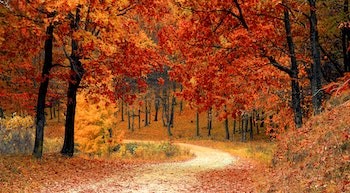 By Julie DeLong, Oil Capitol Relocation
Moving, at any time of year, is often equal portions fun and stressful. Moving in the fall presents its own distinctive perks as well as concerns. A lot of families have discovered that relocating in the fall leads to a smoother, more pleasant changeover; other people, on account of unique conditions, decide to wait until a better time. As
professional movers in Tulsa and Oklahoma City
, we'd like to discuss with you a few pros and cons regarding relocating during the fall season:
Advantages:
1. The weather is usually pleasant
If you decide to move during the summer months, you may likely have to deal with high temps and humidity. In other words, you'll perspire lots as you load and unload your things. On the other hand, the winter season conditions can make moving cold, miserable, and in some cases unsafe.
The fall is a good time to move as you steer clear of extremes of hot or cold. Autumn temperatures are generally nice, and you probably will not have to worry about wintry or slippery driving conditions.
2. Professional movers may have lower rates
The summer season is normally the peak season for moving. Given that fall comes after peak season, you could be able to get a better price when working with a moving company in Tulsa and Oklahoma City.
3. Professional movers may have more availability
An additional advantage of moving over the autumn is that the moving company may be in a better spot to accommodate your moving dates, considering that their calendar is not as stuffed.
Disadvantages:
1. It could be more challenging to sell your home
If you don't at the moment rent and haven't sold your residence yet, then autumn could be a hard time of the year to have a purchaser to close on it. However, we must concur that in the current market, this might not be too much of an issue.
2. It can be hard to "settle into" a new home just before the holidays
Most people are consumed by the holidays, either on a personal or a business level. Moving to a new location is usually anxious at any time but could end up being doubly so just before the most hectic time of the year (at least for many individuals). In addition, in case you have young children, you will need to really coordinate the move so that they can transition into a new location with minimal anxiety - and fall probably are not the best time to make that materialize.
3. The weather could be unstable
Fall weather is usually enjoyable, and without any extremes in temp or humidity. However, there's still an element of unpredictability concerning autumn weather patterns. For instance, for anyone who is moving to or from a northern climate, there is always the possibility that a sudden snowstorm could strike at the end of autumn - possibly in November, or even October! There is also a chance that you will have to deal with an unexpected heat wave, or abrupt falls in temperature.
Of course, whether you choose to move in the autumn or not, you should definitely look at getting the help of professional movers to make your transition as seamless as possible. If you are looking for a reputable moving company to help you with your relocation, reach out to Oil Capitol Relocation in Tulsa and Oklahoma City today. We will be happy to assist!
Request a free quote