Find the Right Moving Company Today!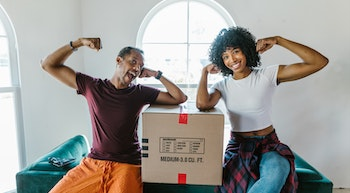 By Julie DeLong, Oil Capitol Relocation
When you find yourself changing your residence, there's always a lot to give thought to: determining your new home payments, commute time, changing your address, and a lot more. However some folks overlook one extremely important detail: choosing the right
moving company in Tulsa and Oklahoma City
based on their unique needs. Our post will assist you to take this important measure and steer clear of unnecessary headaches on the big day.
Determine What Services You Will Need
Not surprisingly, the first step in picking the best moving company in Tulsa and Oklahoma City is to decide which services you are likely to require. If you are looking to have someone professionally pack your items, load, and unload them for you, a moving company can save you time (and perhaps your back, too.) Employing professional movers is also a wise decision in case you are moving a decent distance rather than simply across town, although the pros can assist with local moves, as well.
In case you are transporting vehicles for instance motorcycles or boats, need to have a handful of belongings stored for a short time during your move, or need some pieces assembled and disassembled, various moving companies in Tulsa and Oklahoma City supply assistance for these things, too. Look at the company's web page or call them to learn more.
Once you know what you will need for your move, you are well on the best path to researching and picking out the moving company which will provide what you need.
Obtain Licensed, Insured, and Professional Movers
Learning that you have hired an unlicensed moving company that could be less than dependable can be a catastrophe on moving day. Obtaining a professional mover in Tulsa and Oklahoma City who is dependable, licensed, and insured is essential. The great news is that it is possible to check out the FMCSA website to ensure a moving company you're interested in is registered by the government. If you find your potential moving company's Department of Transportation number at this website, it means they are licensed.
Experience is likewise significant. It is normally wise to go with a more experienced company that may charge a tad bit more rather than risk an unknown mover who offers you an unusually low estimation for their services.
Creating a list of potential moving companies in Tulsa and Oklahoma City that are skilled as well as licensed will provide you with a solid idea of where you should research next.
Require Referrals and Check Reviews
It is not enough to make sure your moving company is licensed, but at least the subsequent part of your homework is additionally uncomplicated: investigating companies' online reviews provides you with an idea of what your experience with a certain company might be like. You're going to get a concept of the associated fee, service quality, and speed.
Most moving companies in Tulsa and Oklahoma City will have client feedback online. These are beneficial, but you will also want to do your own investigation on impartial sites like Google reviews. When a company has lots of unfavorable reviews, the issues will probably show up here.
If you know of anybody that moved recently, specifically in your community, requesting referrals is a good idea. You'll also have the opportunity to ask questions regarding their encounter, cost, and scheduling.
Acquire Estimates
Knowing how much a move will cost you in advance will assist you to plan for moving day and also will assist you to steer clear of any terrible surprises. Many movers can give you an in-home estimate, or taking into account COVID-19, can do a quote by means of video chat, if you prefer. These kinds of assessments tend to be more correct because your mover can see just how much furniture they are moving, how difficult the move will be, and how much time it may need. Be sure to acquire the estimate in writing, should a problem develop down the road.
When you have quotes or estimates from a few companies, it's time to evaluate. The lowest quote, however, is not always the best: oftentimes you will save time and hassle by selecting a slightly higher in price, exceptionally reviewed moving company in Tulsa and Oklahoma City above a mysterious mover with terrible or no reviews. It's also useful to make sure your quote comprises what services you will get for your money.
Be wary of Potential Danger
It is a solid practice to go with your gut. If perhaps anything appears off, it may possibly be best to move on (no pun intended) to another moving company on your list. Trustworthy movers need to be licensed and insured. Quotes that seem too good to be true are one additional probable warning sign.
Will You Be Taking the Leap Soon?
When you're moving, there are many of details to consider, and your moving company will likely be one of the biggest factors into whether your change of residence will go successfully or becomes a nightmare.
With the right professional moving company, your move will proceed much more smoothly, and you will have more time to take pleasure from the experience of settling into your new residence. If you have questions, call us at Oil Capitol Relocation in Tulsa and Oklahoma City. We are pleased to help.
Request a free quote