Are there Advantages of Professional Packing Services?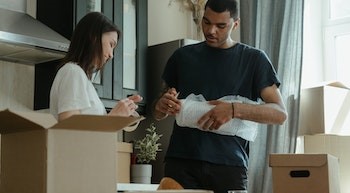 By Julie DeLong, Oil Capitol Relocation
Have you been preparing to move soon? If that's the case, you may be starting to feel bogged down with everything you are doing. One of the primary duties relating to moving is packing and then unpacking your belongings. Below are a few questions you may have about the packing services provided by professional movers in Tulsa and Oklahoma City, together with the way we can assist take the worry out of packing and moving.
Do you know the Benefits of Using a Professional Packing Service?
High-quality packing materials
One of the initial reasons lots of people choose a professional moving company to accomplish their packing is because the packing staff utilizes suitable packing products. Think about how bubble wrap as well as other heavy-duty packing paper deliver far better protection than utilizing towels, blankets, and clothes for wrapping your fragile items.
Better efficiency
Besides making use of quality packing materials, professional movers are usually remarkably competent as well as take their job seriously. These pros aren't just trained, but they are in addition experienced packing gurus which have learned to properly wrap, pack and load your things properly onto and off of a moving truck.
Safety
Unfortunately, if folks make use of friends and family in order to pack and/or move, you have the potential for a person getting injured. However, there is no need to stress when you utilize a professional moving company in Tulsa and Oklahoma City to pack and move your items. This can be even more essential if you reside in a multi-level house since it is easy for incidents to take place anytime carrying large items down a staircase.
Timesaving
Just think about all the time related to being required to find your own cartons. What is more, you will have to commit several days, or even weeks, packing your belongings. However when you utilize a professional mover in Tulsa and Oklahoma City, this task can usually be carried out in merely a few days.
What are the Levels of Packing Services?
Commonly, people don't understand that there are various levels of packing services provided by professional movers in Tulsa and Oklahoma City.
These include:
Fragile-only packing-This covers only the most challenging items, such as packing electronics, breakable glassware and china, collectibles and other hard-to-pack objects.
Partial packing-If you do not need assistance packing items in each room of your house, then partial packing may just be the most suitable choice. This is often an ideal way to save money because you're going to be doing some of the packing yourself.
Full-service packing-Just as its name implies, full-service packing is where the moving company packs up every single item in the house. Even though, it's the priciest solution, it can be carried out much faster, and you don't need to do any of the packing.
What is Involved in the Packing Process?
· Before the packing starts, the professional mover protects your floor surfaces.
· Then, after bringing in boxes, tape, paper and also other packing products, each packer takes a space and commences packing.
· Besides marking the individual things which are inside each box, packers additionally tag the carton with the particular room for the item.
How do I Figure out if I Require Help with Packing?
Most likely, you might be asking yourself if you require assistance with packing. Take into consideration that you can find several things that can go into responding to this inquiry. Along with your budget, additional variables may include those, such as:
· A lack of time-Commonly, persons will need assistance with packing when they are forced to move on short notice. Thus, if you have to move swiftly, then employing professional movers to pack and securely move your things is your best solution.
· Too many items-Having too many things to pack can be another factor.
Various other Considerations to Remember
· It is advisable to be present all through the packing.
· Keep kids as well as domestic pets away when packers are there. You don't want to delay the process by having the packers become sidetracked or even cause a safety risk. Contemplate how small objects and also loose parts lying around can be hazardous for youngsters and also pets.
· There are generally items that a moving company in Tulsa and Oklahoma City will not likely move, which includes live flowers and plants, hazardous products, and perishables. Make certain and discuss these things with your mover in advance.
By letting a professional moving company in Tulsa and Oklahoma City do the job, it is possible to take it easy, recognizing your items are in good hands. To learn more about our residential moving services, contact us and get a free quote.
Request a free quote